THE HISTORY OF OUR COMPANY
VAN DELDEN LIMOUSINES: A FAMILY BUSINESS WITH A RICH HISTORY
From Amsterdam, we have been offering luxury transport for national and international guests, executives and royalty for 130 years. Nowadays the company is in the hands of the 5th generation of 'van Deldens': brothers Ralph and Robert. It is our great pleasure to share our extraordinaty company history with you.
HOW IT BEGAN...
The Van Delden story begins in 1888.
On the atmospheric Govert Flinckstraat, in the center of the de Pijp neighborhood, Herman van Delden started a stable. With horses and carriages, led by professional coachmen, van Delden offered luxurious, comfortable transport within Amsterdam from the start. The company grew quickly, and a second stable was opened on Huidenkoperstraat.
Sadly, Herman passed away in 1905. His son Gerard was only five years old at the time. The company went to the widow van Delden's uncle, Martin. In 1928, Gerard van Delden took over the company. Under his guidance, Stalhouderij Van Delden grew to success. They went from 26 to 120 horses and owned no less than 80 carriages. This took up a complete block on Haarlemmerplein!
The Second World War brought along tough times. For the company as well. Whereas the stable still had 90 horses in 1939, there were only 16 left in 1945. Many horses were confiscated by the Germans, but thanks to the breeding farm there was enough new growth. When the schools closed, Piet van Delden, Gerard's son, came to help in the company. This was the real start of the family company tradition.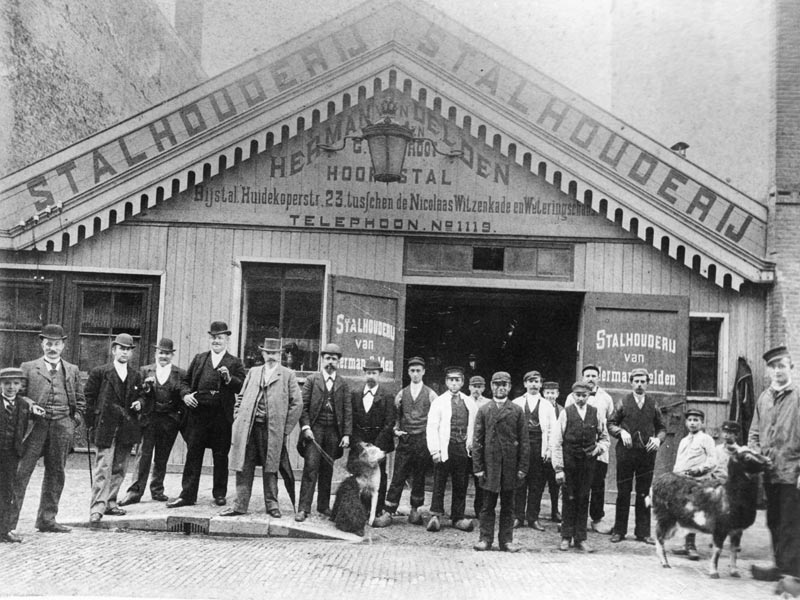 INTERESTING FACTS
The stable's very first carriage was a Landauer, a reliable means of transport. The last used carriage was a Victoria. This was kept in the family for a long time afterwards.
THE STABLE HAD A SCOOP IN 1956.
Until the 1950s, the royal family was exclusively transported by the Royal Stable department. But an extraordinary exception was made in 1956. Stalhouderij Van Delden was the first (and only) to have the privilege to transport a member of the Royal House during her trip through Amsterdam: Princess Beatrix.
This was the crown on our ambition to offer all customers exclusive, luxury transport and service. To meet this requirement, the Stable even imported special carriages from England. The so-called Handsome Cab was already very popular in Londen in the 20s, but it was still barely known in the Netherlands. This taxi-carriage offered comfort and luxury, and therefore fit in perfectly with our company.
However, the demand for carriage transport diminished, while the demand for car transport increased. And good coachmen became nearly impossible to find. In 1955, our youngest coachman was more than 50 years old!
INTERESTING FACTS
Two very famous horses in the Stable were Sokkel and Senior. They came from Oscar Carré and were previously trained as circus horses. For years, they served as excellent coach horses.
IN 1959 THE COMPANY MADE A DEFINITIVE CHOICE FOR A DIFFERENT DIRECTION.
A large auction was organized in Amsterdam, where the largest part of the horses, carriages and harnesses were auctioned. This auction attracted a lot of attention and was in every newspaper. Only four horses and carriages remained in possession of the company.
The auction was also the moment when Piet van Delden took over the company from his father Gerard. He shifted the focus to limousine transport and bought the first car: a Cadillac. Thankfully, he did hold on to our tradition of luxury and style. This Cadillac had a gramophone, for example. When a bride and groom stepped into the car, the wedding march by Lohengrin was played for them.
Thanks to the attention to this kind of detail, Van Delden has been able to transport many special guests. Amongst others, Alfred Heineken, Popov, Elisabeth Taylor and John Denver rode with us, in addition to many other celebrities. An extra special guest was David Hasselhoff, who made a bet: he wanted to be picked up in a limousine equipped with a bar, cigars and… a pool! Unfortunately, a filled inflatable bath, including a rubber duck, was not enough to win the bet.
In 1971, the old stable buildings were definitively sold off, and Van Delden settled in a new building on the Visseringstraat. There was more space for the growing amount of limousines.
A MODERN COMPANY WITH OLD TRADITIONS.
Peter van Delden, Piet's son, was always around in the company. No wonder he was already a driver at the age of 18. He mainly did a lot of weddings. His sister, Caroline, was also involved from an early age and started as a driver at the age of 18. Later, she switched to the administrative and financial department, where she still works today. Together, they took over the company from their father.
They continued building on the innovations that Piet van Delden started. Especially by focusing more on the business market. Actors and actresses were driven to their shows all over the country daily. Corporate limousine transport became more important, although private customers were still always welcome.
An important step was establishing contacts with travel agencies. This made Van Delden Limousine Service an important partner for high-end transport for tourists. This started as transfers, but soon enough complete tours were offered and multilingual employees were hired. This way, international tourists could also enjoy our class.
Nowadays, the company is in the hands of Ralph and Robert van Delden. Caroline still works in the finance department, together with her daughter Sandra. So, it's a real family company. Ralph and Robert are very aware of the rich history of Van Delden and the traditions that formed the company. Traditions of luxury and quality, of daring to innovate and of timely playing into changes in society.
Our company has changed a lot. But what has always remained is our aim to offer you the highest quality transport with the best service. As it has been for the past 130 years.